Working and wandering around Penang
New Post: Notes on Kampot. Travel Reads: EV road tripping in the US and Canada, random train travel in Japan, and more travel reads.
Where I'm At: Penang, Malaysia.
I'm wrapping up my stay in Penang today, and I simultaneously feel like I didn't go to my favourite cafes enough and didn't visit enough new cafes.
Thanks for reading Nomadic Notes Travel Newsletter! Subscribe for free to receive new posts and support my work.
Penang is a place I like to go to when I feel like I need to get work done. This week I've had a great combination of a good desk in my room, punctuated by circuitous wanders around the city to get to a cafe. Here is one of the new cafes I have been frequenting: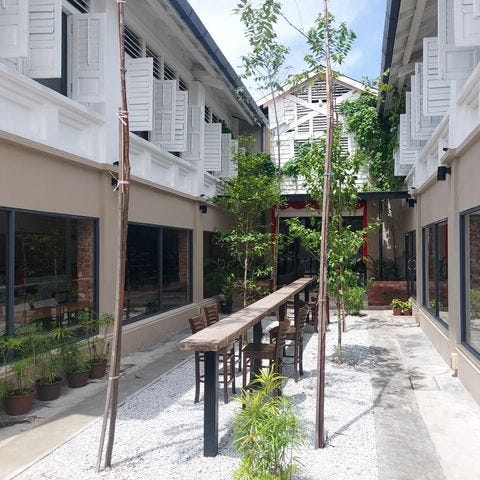 I'm so familiar with Penang that there is no pressure to go sightseeing. My idea of sightseeing is looking at the many old doorways and windows of Georgetown.
I have been visiting some construction sites, which I posted in my Future Southeast Asia newsletter. There is also preparation for a light rail here, so changes are coming.
So far on this trip to Malaysia I have only been to familiar destinations. Starting from this weekend I will be visiting five new places in the space of about two weeks. They aren't exactly tourist destinations, but they fit in with the theme of transport and urbanism in Southeast Asia. After that I will be doing some island time for a month.
I got one blog post done this week from my time in Cambodia, way back in January. I'm only 6 months behind now 🤣.
Latest posts at Nomadic Notes
• Notes on Kampot – There's been a vibe shift
Travel reads
• What it's really like to road trip in an EV across America
• On the same subject, EV Explorer Across Canada is a new project by Mario Rigby. I've been following Mario since his walk up the length of Africa, so an 8000km+ road trip across Canada in an EV is a big change of pace.
• A love letter to the 'best mountain range on earth'
"In his new book, Kim Stanley Robinson grounds himself firmly on Earth and explores the beauty of the High Sierra mountains."
• Egypt's Red Sea resort that's making waves
"Lost in Vietnam's DMZ on a russian motorbike."
• Revisiting Reykjavík - a photo essay
• How the amusement park conquered America
• 50 interesting pics from Sweden that show what's so special about it
• The best neighborhoods in Québec City for restaurants, culture and outdoor spaces
I usually ignore "best" or "ultimate guide" articles as they tend to be written by someone who blew into town for 3 days and declared themselves an expert. Here though, we have my friend Pam who lives in Québec City and writes a guide for the city.
• From egg tarts to the Star Ferry: 25 objects that tell us this is Hong Kong
Train travel
• Thailand travel by train from Bangkok to Chiang Mai on the Northern Line offers visits to a series of former capitals – we hopped on board
• Japan's random-destination roll-the-die train tickets: An amazingly cheap way to go…somewhere
• Switzerland once had a Starbucks cafe located on a train
This and more articles about European rail were posted on the Europe Rail Newsletter.
Air travel
• World's best airlines for 2022, ranked by AirlineRatings.com
• Partying flight attendants? We'd rather sleep
• No wonder there's an air travel crisis. Airlines have been screwing workers for years.
Rich-people travel
I know, #notallrichpeople, it's just that I had enough of these articles to put in a sub-group.
• The haves and the have-yachts
"Luxury ships attract outrage and political scrutiny. The ultra-rich are buying them in record numbers."
• The guys tracking the absurdly short private flights of the rich and famous
🇺🇦 Ukraine
• How a holiday in Poland can help support Ukraine
Digital nomad news
• Costa Rica's digital nomad application is now open
• If I read another article that says there is a Bali digital nomad visa I'm going to say URGH so loud you will hear it from where you are. Over at Couchfish, Stuart has some thoughts on what an Indonesia digital nomad visa should consider.
• Digital nomad guide to Lisbon, Portugal
This post is pretty epic in its detail, so I give the writer extra credit for not putting "the ultimate guide" in the title.
I went to Lisbon in 2005 with my dad, before it became a digital nomad hotspot. I don't remember how I did my digital nomad duties back then, but it was not at cafes with wifi. I am overdue for a revisit.
---
The Nomadic Notes Travel Newsletter is a weekly newsletter of the best travel reads and interesting travel news from around the web, and random ramblings by the editor.
- James Clark
Thanks for reading Nomadic Notes Travel Newsletter! Subscribe for free to receive new posts and support my work.