Urban regeneration projects of Seoul

Greetings from Bangkok!
I'm back for what has become my annual visit. I average 2-4 weeks a year here, either on the way to somewhere else, or just visiting. This time I am getting a new passport at the Australian embassy which takes 2 weeks. It also costs $500 AUD for the 67 pager. Ouch! At least I have a good passport. Read the article below about the Rohingya in Myanmar and your passport woes will disappear.
~ James
---
Latest posts from Nomadic Notes
The Cheonggyecheon Stream and Seoullo 2017 skypark have transformed two urban planning mistakes into a city asset.
Interesting Reads This Week
'The more than one million Rohingya in Myanmar are almost all excluded from Myanmar citizenship, making them the largest stateless group in the world.'
This article was published last month but it is slowly finding the audience it deserves.
"Traveling across Australia's vast interior, our photojournalist found a land that defied easy explanations, a remote expanse filled with meaning."
A wonderful photo essay on Outback life.
"Visitors are underestimating the country's dangers—and taking locals for granted."
"The ability to sleep while your autonomous vehicle takes you to your destination poses a serious threat to airlines and hotels, while car rental agencies are grappling with the risk of redundancy amid the rise of ride-sharing."
Digital Nomad / Location Independence
"Travis and Aaron Atlas have been juicers, rappers, Evangelicals. Travis almost got elected to Congress. But no matter where they go, they can't fit in."
I rarely post articles about Chiang Mai now because there are so many articles. This is an exception. The Chiang Mai digital nomad scene had a drama last year that has now been chronicled by NYMag.
Despite being a magnet for characters selling the dream of an easy life, I still love Chiang Mai. To balance the last article here is a great podcast from last month on living in Chiang Mai.
Southeast Asia Railways
News related to future Southeast railways.
"After years of delay, Thailand's Cabinet finally approved $5.2 billion in funds to build a 252-kilometer railway that will cut the travel time between the Thai capital and its northeastern province of Nakhon Ratchasima from the nearly six hours it takes now to less than one and a half hours when it is completed in 2021."
This proposal has been announced a multitude of times over the years, so I'll believe it once the heavy earth equipment start working on it.
Instagram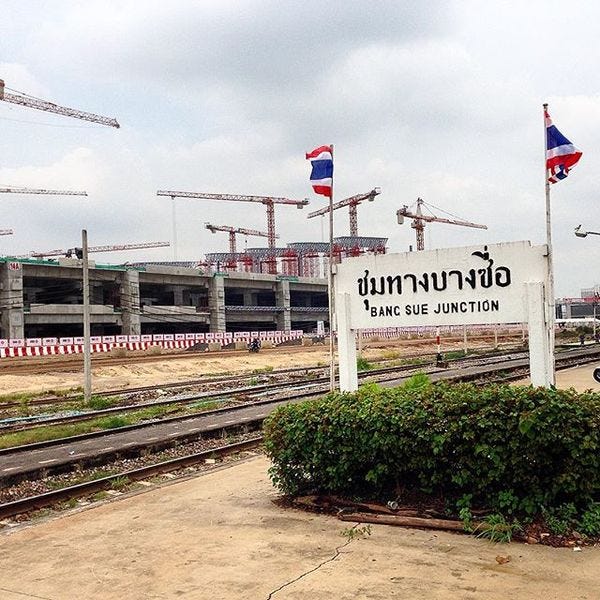 Bang Sue Junction, next to the future "central station" of Bangkok.