Travel Newsletter: Update from Penang
USD/EUR parity, a deep dive on Austin, Europe's pursuit of the good life, the train in Spain without financial pain, and more travel reads.
Where I'm At: Penang, Malaysia.
I'm back in Georgetown, which is a place I have spent months of my life in over the years. I was last here during Chinese New Year in 2020 when my thoughts were filled with a particular virus that was starting to make the news.
Thanks for reading Nomadic Notes Travel Newsletter! Subscribe for free to receive new posts and support my work.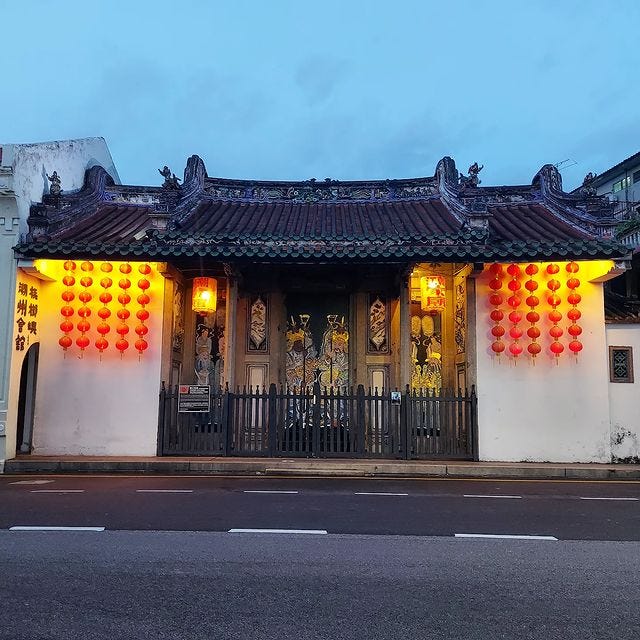 This is my first visit back since then, and there have been more changes than you would expect from a two-and-a-half-year absence. My favourite chicken and rice shop closed down, the worst guesthouse I've stayed at in Malaysia has also closed down, and there are more "For Rent" signs than ever. My Penang cafes list is embarrassingly out of date, though I am happy to find that my three favourite cafes have survived (probably because they are the three best cafes in Penang).
I'm staying in the UNESCO World Heritage area of Georgetown, which hasn't changed much physically. The big changes are happening around the rest of the island, which is why I am here. I will be doing some reports for Future Southeast Asia next week.
Another good batch of interesting travel links for you this week, and I should have some new content at Nomadic Notes next week.
Travel news
• The euro and the US dollar are at parity for the first time in 20 years
The USD is strong against pretty much every currency at the moment, so this doesn't apply to spending my dollarydoos in Europe.
Travel reads
• World's Greatest Places 2022, according to TIME. I know, another listicle. I first found out about this when I started getting press releases from the selected cities.
"Austin is a mediocre city, but a great place to live."
Sometimes good articles about places aren't by travel bloggers, which makes such articles harder to find. I enjoyed this perspective of Austin by David Perell. I know a lot of people who have moved to Austin, so I would like to see it for myself. For the record, I've only place I've been to in Texas is Dallas.
• Hi from Rick: Europe's pursuit of the good life
"When I was in Vienna last month, I was impressed by how inviting and friendly big European cities can feel — thanks to city governments with a passion for protecting people-friendly culture."
Before I became interested in urbanism I didn't know why I loved Europe so much. This article by Rick Steves sums up some of the reasons why.
And inversely, it sums up why I didn't like places like Dallas, where I was trapped in suburbia without a car.
• In Miami, a pandemic-fueled boom
• In this European microstate, adventurers are contributing to science
• The hidden history of Tehran's red-light district
• The world's weirdest border?
• Pico Iyer has traveled the world for 46 years. Here's what has changed—and what has stayed the same.
• The lost art of the miniature golf course
Train travel
• Spain to make some train journeys free from September
• What's faster? Watch us race from London to Amsterdam by plane and train
I have caught the Eurostar to Paris and Brussels, and it is the most sensible way to travel from London. The flight on this race would have been longer if they went to any other airport apart from London City.
• A new web of Arab railways could transform the Middle East
• The historians saving America's pint-sized railroads
• Eight amazing European train journeys, as selected by Mark Smith of @seatsixtyone fame.
Air travel
• 24 years ago today: Hong Kong's legendary Kai Tak Airport closes
I like to think that I live a life without regrets, but I was a grown-ass adult who had friends tell me about this airport, yet I never went.
• What it's like to land on the world's shortest commercial runway
• Delta fills wide-body jet with 1,000 lost bags from Heathrow
On travel writing
• Who gets to tell the story of a place? Well, it's complicated
• COVID changed travel writing. Maybe that's not a bad thing
Maps
• Which U.S. state are you closest to
---
The Nomadic Notes Travel Newsletter is a weekly newsletter of the best travel reads and interesting travel news from around the web, and random ramblings by the editor.
- James Clark
Thanks for reading Nomadic Notes Travel Newsletter! Subscribe for free to receive new posts and support my work.