The new island city of Malaysia
Visiting a new city on an artificial island, and the best travel reads of the week.
Where I'm At: Forest City, Malaysia.
Last week I mentioned I was going to five new places in the space of about two weeks. These are places that are new to me, but in today's case, I'm in an actual new place that is only five years old.
Thanks for reading Nomadic Notes Travel Newsletter! Subscribe for free to receive new posts and support my work.
Forest City is an artificial island in the Johor Strait, looking out over Singapore. I've made a profile about Forest City, which includes an archive of its controversial history.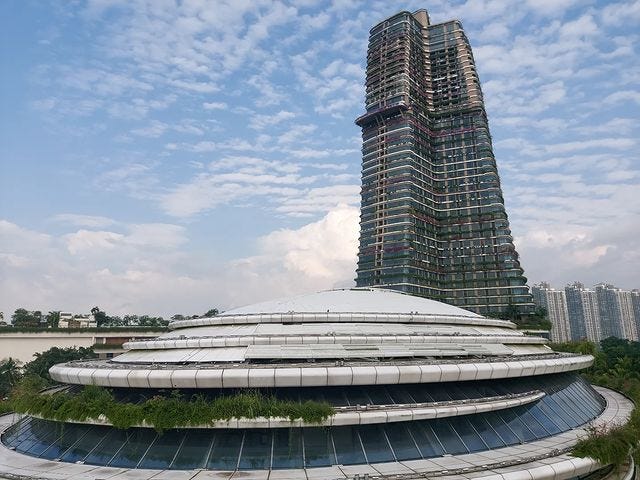 It's a strange place to be right now as it feels like workers outnumber residents. There are about 40 apartment towers so far, but I have only found one place where you can sit down for a coffee (and instant coffee at that). I will be writing about Forest City on Nomadic Notes and Future Southeast Asia.
Earlier this week I was in Kuala Lumpur, where I was going to do a day trip to another new place (for me). I ended up ditching that plan as I realised I was trying to do too much in a short space of time. I spent more time checking out KL's much-improved metro system, and I nerded-out on the best and worst interchanges.
[James in Forest City, Malaysia.]
Travel reads
• How Scotland is reinventing its centuries-old canals for paddlers
"Pick a famous American of the last century, and odds are they lived the hotel life. Bob Dylan and Joan Baez. Joe DiMaggio and Marilyn Monroe. Patti Smith and Robert Mapplethorpe rented a room at the Chelsea Hotel, but then, who didn't?"
• Terrifying or inspiring? Saudi Arabia unveils plan for 170km-long city
• The Chinese megacity where masks are rare and clubs are packed
• Siberia or Japan? Expert Google Maps players can tell at a glimpse.
• This abandoned Spanish resort is still a popular vacation destination
• Yucatan's lost hacienda trail
• These are the most-viewed destinations on TikTok
🚆
Train travel
• America aspires to one day in the far future build rail service worse than it was in the 1940s
As an Australian, I'm laughing with you not at you, America.
• Japan to review operations of train lines with less than 1,000 users
If you have been thinking of riding the little railways of Japan, then you might want to bump it up your 'things to do" queue. Japan might be having their Beeching cuts moment.
✈️ Air travel
• Airline seat reservation fees are evil, but is this how to fix them?
From the Elliott Confidential newsletter.
• Rex Airlines announces plan to retrofit existing fleet with electric-propulsion engines in regional trial
• From Turkish Airlines to Virgin Blue, why these 10 airlines changed their names
• Cathay brings back fleet parked in the Australian desert
Travel satire (or is it?)
• Airbnb that family booked doesn't have as many perks as hotel, but on the plus side it's more expensive
I'm staying in an Airbnb now, mainly because it was $100 cheaper than staying at the only hotel in town. I had the fun of waiting at the guard post to be let in and being told to bring my own towel.
• Dozens injured in Dublin Airport 'bagalanche'
---
The Nomadic Notes Travel Newsletter is a weekly newsletter of the best travel reads and interesting travel news from around the web, and random ramblings by the editor.
- James Clark
Thanks for reading Nomadic Notes Travel Newsletter! Subscribe for free to receive new posts and support my work.