Singapore Changi Edition

Changi Airport, Singapore - 1 September, 2017
---

Where I'm At
Where I'm At: September, 2017 – Singapore Changi edition. A monthly update of what I've been up to, site news, and where I'm going next.
Travel Reads
"Singapore's language scene was once "a linguistic tropical rain forest," chaotic but vibrant. Then came a campaign to limit speech to just English and Mandarin. Now, dialects are coming back."
"Mohammed Rafiq has been painting Pakistan's colourful buses for 40 years, but there's a dark side to the industry."
In Melbourne in 2006 there was a public art project that decorated a tram like a Karachi bus. I have been curious to see them ever since.
"Benjamin Haas joins the retirees, working poor, drug addicts and convicted criminals who live crammed into the city's tiny plywood cubicles."
I will never complain about staying at the Chungking Mansions again.
"…the picture we get of global travel from glossy magazines - of mostly white Westerners experiencing "exotic" locales - fails to capture the biggest story in travel over the last decade: the rising tide of international travelers from the emerging world. The rise of "the rest" is now a travel story, too - and a potentially transformative one."
"Leafy infrastructure saves bustling metropolises about $505 million each year, according to new research."
Work Abroad / Location Independence
"Last week, an Estonian named Kaspar Korjus posted a speculative proposal online. Mr Korjus, who manages the e-residency programme at the agency responsible for attracting inward investment to Estonia, asked what would happen if the country were to become the first sovereign state to issue its own cryptocurrency."
"China's internet celebrities, known as Wang Hongs, are cashing in on their growing social media influence. Australian student Amy Lyons is one of them."
"Bangkok's latest co-working space wants you to sleep on the job. NapLab is the project of Awaken Design Studio, which has converted eerie old university dorms into a bright-lit space that's equal parts work, play and rest."
I usually take a siesta in my workday, so this work space appeals to me.
Instagram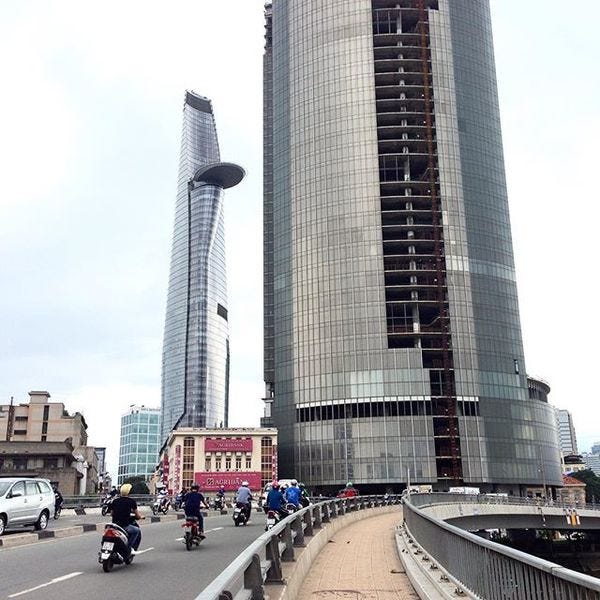 The Saigon One Tower has stood as an incomplete shell since 2012, with bad debt and mismanagement halting its completion. This month the tower was seized from the developer, so the saga of Saigon's ghost tower continues.