Now is the time to visit Laos 🇱🇦
Space Invader spotting, beautiful lake towns, Madrid's urban forest plan, world's best airports for 2022, and more travel reads.
Greetings from Saigon. This week I bumped my Laos railway review up to the top of my publishing schedule. I'm still working my way through travel posts from January, but I wanted to get this story out ASAP.
I don't usually publish articles with titles like "why you should visit x now", yet here I am doing it now. In the case of Laos, I think now is a good time to visit for a combination of reasons:
- The country has just reopened, so the usually busy tourist hotspots of Vang Vieng and Luang Prabang are still very quiet.
- The Chinese border will probably be closed until at least the end of the year (after the 20th National Congress is held), so mass tourism will restart when that happens.
- The combination of a strong USD and debt crisis in Laos has led the Lao Kip to devalue rapidly over the last few months. Laos was always an affordable travel destination, but now it is extra cheap (it reminded me of Istanbul last year).
[Graph by xe.com.]
- If you are a train nerd (or if you just hate being crammed into a minivan for 8 hours) then you will love getting around by the new train.
- And finally, I have a soft spot for little Laos, so I hope more people will come to Laos and spend some money there.
I will be travelling around Vietnam for the rest of the month, including some rail travel.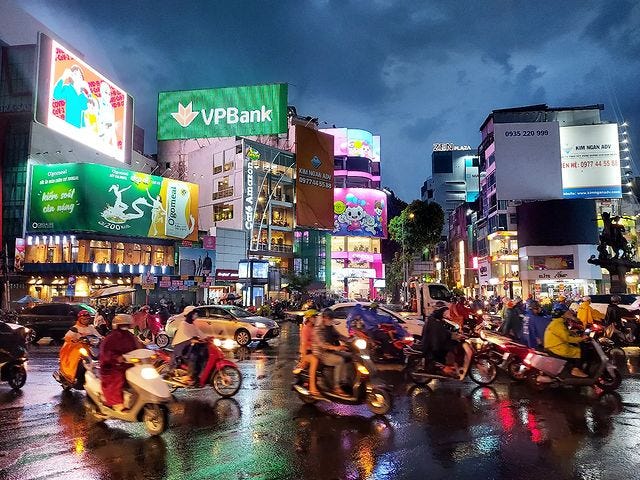 [Follow me at @nomadicnotes for real-time updates.]
Latest posts at Nomadic Notes
Laos-China Railway – A review of the Vientiane to Boten train
I also wrote a review on Future Southeast Asia:
Laos-China Railway review – observations while riding the train from Vientiane to Boten
Assorted travel reads
• Discovering a new city, one Space Invader at a time
"Invader, who started his project 24 years ago in Paris, says he has installed 4,056 mosaics in 80 cities across the world."
• The world's most beautiful lake towns
• When #vanlife meets the $300 tank
• Madrid aims to transform mobility with huge urban forest
"The Madrid Nuevo Norte project aims to reinvent the city's northern rail station and surrounding districts, and is one of Europe's largest urban renewal initiatives."
Imagine emerging from the train station at Madrid to this!
• Eigerwand, the railway station carved into the mountains
• The world's top 10 airports of 2022
• Explore the mountains of the South Island on the TranzAlpine
• Pilot and cabin crew sleeping compartments on planes: How and where crew get their sleep
• This European airline just ordered a fleet of airships
• From Instagram @_yes_but
---
The Nomadic Notes Travel Newsletter is a weekly newsletter of the best travel reads and interesting travel news from around the web, and random ramblings by the editor.
- James Clark