Notes on Seoul – the orderly megacity of South Korea

Greetings from Bangkok!
I'm still here waiting for my new passport, though this week I got out of town for a few days. I figured I should do some more train research and visit some new places. I visited Kanchanaburi by train, which is famous for the bridge on the river Kwai. From there I got took two trains to get to Hua Hin - the seaside city south of Bangkok.
In addition to posting a weekly newsletter I'm challenging myself to post an article once a week as well. Let me know of your newsletter thoughts by hitting reply and the bottom of the email.
~ James
---
Latest posts from Nomadic Notes
Thoughts and observations on a week in Seoul, South Korea.
Interesting Reads
"Polluted and crowded. Also distinct and completely fascinating. And then there's the food."
Speaking of megacities, Tyler Cowen of Marginal Revolution fame has a good travel style.
"Unlike many cities, the French capital has made good on its promise to re-open urban waterways to bathers. How did they do it?"
"A look at the wondrous life of Olive Yang, the crossdressing royal-turned-warlord whose army set up opium trade routes in the Golden Triangle in the 1950s."
I love me a good obituary of an interesting life, and here the website Coconuts have done a Buzzfeed and gone from viral news items to in-depth long form.
"Across the country's cities, the rapid growth of mobile payments is making cash all but obsolete."
During my quick visit to Shenzhen I saw that even street venders were using mobile payments. We are hurtling fast towards a cashless society.
"Havana's barrio chino isn't what it used to be, but presents an opportunity nonetheless."
Location Independence
"It's easier than ever to live with no fixed address, but that doesn't come without a cost."
Southeast Asia Railways
News related to future Southeast railways.
"A university lecturer is waging a one-man social media campaign to save hundreds of quaint old Thai railway stations from being bulldozed to make way for more modern trains."
Instagram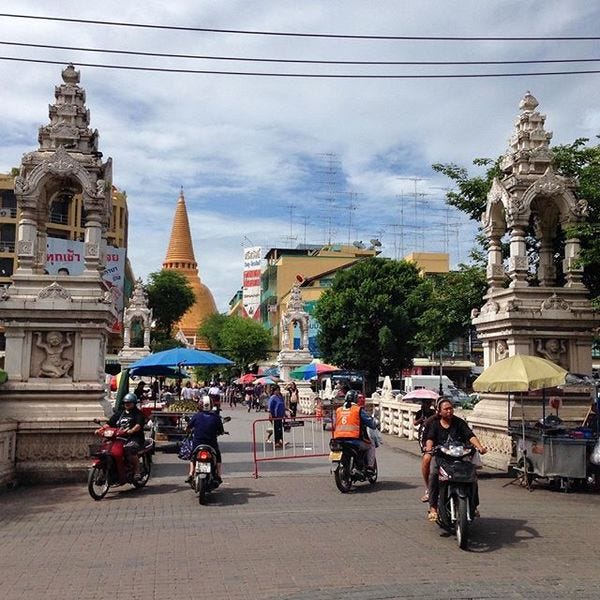 I had an hour between a change of trains in Nakhon Pathom, which was enough time to check out the stupendous Phra Pathom Chedi - the tallest stupa in the world.