Notes on Melbourne: Things I noticed on my annual visit – 2018 Edition

A weekly newsletter of great travel reads and news by James Clark from Nomadic Notes.
---
Latest posts from Nomadic Notes
Returning to my former home of Melbourne here are my notes and observations of the city.
Good Reads
"It was already late—just one hour before sunset on January 25, 2018—and they had yet to reach the summit. The shadows of the high Himalayan peaks were getting longer every second, covering the surrounding valleys with dark veil and turning the air so cold that every breath brought pain."
""Yes, there is still radiation here," Australia's only nuclear tour guide says of Maralinga, where the Australian and British governments dropped seven bombs between 1956 and 1963."
"For hundreds of years, the Bajau have lived at sea, and natural selection may have made them genetically stronger divers."
"There are hundreds of thousands of camels roaming the outback. But how did an animal synonymous with the Middle East end up here in such numbers?"
"'La Sape' is a lifestyle built on a simple set of values: dress sharp, act with integrity and inspire others. This is why they do what they do."
"Elijah Hurwitz visited the region this winter amid heightened tensions between the two countries."
"Where once poachers hunted animals in the jungles of Koh Kong, Cambodia, ecotourism has offered the legal, if gruelling, option of working as trek guides."
Travel Blogs
"After a spinal tap led to a cerebrospinal leak, my life of travel and food changed overnight. To mark ten years of long term travel, I wanted to share what really happened after the lumbar puncture, and during the craziness of these last seven months trying to fix the leak."
"TL;DR: Tokyo is insanely clean, feels sadly old but still futuristic. Its size will mess with your head. Hong Kong was designed for bankers with slaves but has that mesmerizing Blade Runner skyline."
Photography
"Simply a collection of some amazing recent aerial images showing the vast diversity of landscapes across China."
"Andrea DenHoed writes about Dr. Julius Neubronner's early-twentieth-century invention of a camera that pigeons could carry, taking photos in flight."
Southeast Asia Railways
"The Land Transport Authority has called tenders for the design and construction of tunnels and associated facilities for Singapore's end of the high-speed rail project connecting with Kuala Lumpur."
Instagram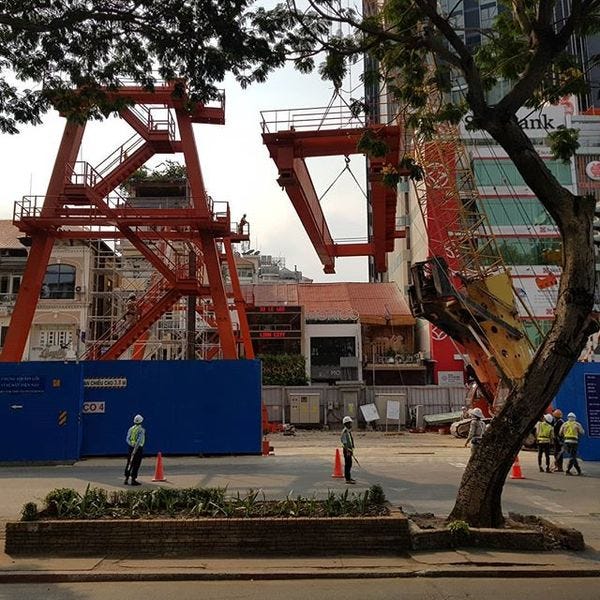 Metro construction in Saigon.
Nomadic Notes Partners
Nomadic Notes is partnered with the following sites. I use and recommend these travel booking sites when planning my travels.
Book Accommodation: Agoda
Find Flights: Skyscanner
Travel insurance: World Nomads
Booking via these links will not cost you extra, and they will help keep Nomadic Notes running. Thanks for reading!