Northern Laos update
I went to Boten so you don't have to.
Greetings from Muang Xai! This provincial capital is one of the express stations on the Laos-China Railway, which I have made a point to visit them all. To complete the set of stations, today I went to Boten on the Laos-China border.
Border towns in Southeast Asia are not places you would voluntarily visit at the best of times, and Boten is no exception. There are hundreds of trucks stuck at the border waiting to cross into China, and the new city that is being built requires a covid test to enter. I was going to do a report for Future Southeast Asia, but this is not the place to find out you are asymptomatic with Covid and subsequently get quarantined for a week.
To top it off, there were no shops between Boten station and the border town, and there was a long wait between trains. I knew the Boten segment of this trip was going to be a hard day, and it has indeed been such a day. This is a long-winded way of saying I'm running late with this week's newsletter.
I am writing a report about this amazing railway line, and I went to Boten so you don't have to.
I'm about 5 months behind on Nomadic Notes blog posts at the moment, but I will bump the Laos-China Railway Guide up the publishing queue. Here is what the train looks like arriving at Luang Prabang.
Assorted travel reads
Matt Lakeman "spent most of April and some of May traveling around Ukraine, visiting the cities of Uzhgorod, Lviv, Kyiv, Kharkiv, Dnipro, and Odessa."
• Beloved objects that hold our travel memories
• Dervla Murphy, 'secular saint' of travel writing, dies aged 90
• Biking from Italy to Croatia: How to cycle along the coast
• What the extraordinary funeral rituals of Tana Toraja and Trunyan in Indonesia can teach us about living a better life
I was invited to a funeral when I visited Tana Toraja (I wrote about here). In other news, I can't wait to get back to Indonesia.
• Home at last: Adventurer and his faithful dog complete seven-year trek around the globe
This is a followup from a story featured in the 22 April Newsletter.
• Southeast Asia's 600-year-old fusion cuisine
• Swimming from Asia to Europe across the mighty Bosphorus
"For a few hours each year, one of the world's busiest shipping channels closes for a 6.5km open-water swim"
• Hawaiian Airlines plans to fly electric planes that glide just above the water
• World's longest suspension footbridge opens in Czech Republic
• Riding on Japan's cheapest overnight train | Sunrise Express
• Two great Europe rail deals on offer: How to see denmark by train for only $56 this summer, and Germany's €9 ticket goes on sale nationwide. These were featured in this month's Europe Rail News. Subscribe here.
@nomadicnotes at Instagram
Follow me at @nomadicnotes for real-time updates.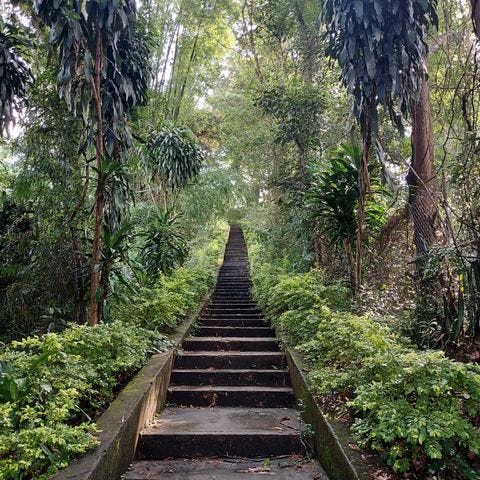 ---
The Nomadic Notes Travel Newsletter is a weekly newsletter of the best travel reads and interesting travel news from around the web, and random ramblings by the editor.
- James Clark