Nomadic Notes Newsletter - June 2017

Greetings from Saigon! Here are the latest posts from Nomadic Notes, site news, and personal updates.
~ James
---
Where I'm At
Where I'm At: a monthly update of what I've been up to, site news, and where I'm going next.
Latest posts from Nomadic Notes
Returning to my old home city of Melbourne after being away for two years, and noticing the changes in the city.
Returning to Shenzhen six years after my first visit to find a completely different city than what I remember.
[UPDATED] A list of the best cafes in Georgetown, Penang - great coffee and ideal spaces for writers and digital nomads.
The redevelopment of the Chinatown/Heritage Quarter of Kuala Lumpur, including the River of Life Project, the new metro, and KL118.
Nomadic News
In defense of Chinese tour groups.
A confluence of political and economic forces has prompted Europe's largest airplane manufacturer to place a factory in Alabama — and to create one of the world's most gargantuan supply chains.
In much the same way, Nguyet's memories seem to fade as Ho Chi Minh City's cool morning blends into the afternoon. With her hair tied in a silver bun and her feet slipping in and out of rubber sandals, she seems to blend seamlessly into the bustling city of over 12 million.
Last summer I traveled into the mountains of Afghanistan for a two week backpacking adventure. Not your typical summer vacation destination. Here's what I witnessed on my journey.
A look at the jade-rich hills of Kachin, where everyone's digging for the single stone that will make them rich.
Is the mummified monk who disappeared from a Chinese village 22 years ago the body in the Buddha that turned up unexpectedly in Amsterdam? John Hooper and Ted Plafker investigate
Trump's travel ban and the humanitarian crisis in the Middle East raise the question of whether it makes sense to divide the world into neat little packages in the first place.
Future Southeast Asia Railway Project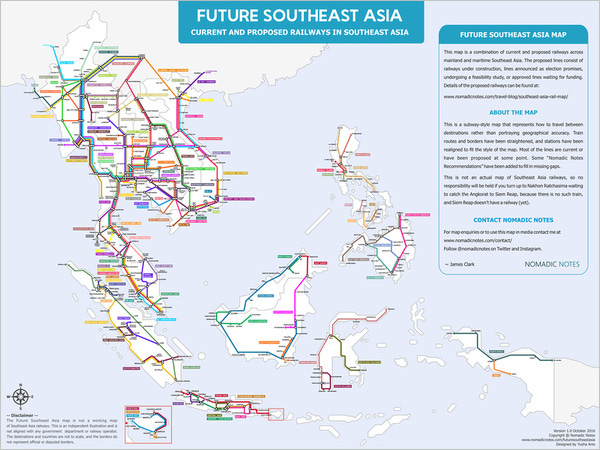 Future Southeast Asia Rail Map
Last year I created the Future Southeast Asia Railway Map which proved to be a popular concept. I have some other map ideas, but for now I'm still bookmarking Southeast Asia railway news. If you would like to keep updated I have a Facebook group where I post articles and map news. 
Join here: https://www.facebook.com/groups/1700545326676832/
Thailand's transportation minister has announced that construction of 3.5 kilometres of the Thai-Chinese high-speed railway may begin as soon as August.
Nomadic Notes Partners
Nomadic Notes is partnered with the following sites. I use and recommend these travel booking sites when planning my travels.
Book Accommodation: Agoda, Hotels Combined
Find Flights: Skyscanner
Car Hire: RentalCars
Travel insurance: World Nomads
Booking via these links will not cost you extra, and they will help keep Nomadic Notes running. Thanks for reading!