Nomadic Notes Newsletter: Hong Kong Edition

Greetings from Hong Kong! I'm here again for the second time this year, on a 1-day stopover. 
I've just wrapped up eight days in Seoul which turned out to be a great trip. I didn't know what to expect, or if a week was an appropriate amount of time. It's a cool city, so if you are ever flying through Incheon Airport see if you can ad a stopover on the way through.
Here are the latest posts from Nomadic Notes, plus the best reads from the last week.
---
Where I'm At
Where I'm At: July, 2017 – Seoul edition. Monthly update of what I've been up to, site news, and where I'm going next.
News
This ideas emerges every few years, with Palangkaraya in Central Kalimantan being a leading candidate city for the new capital of Indonesia.
"MJ Eberhart – AKA Nimblewill Nomad – has become a legendary figure among fellow hikers, even having his toenails surgically removed to prevent infection."
""Amazing Thailand" - so the slogan goes. But while Thailand shines brightly on many fronts – its exuberant capital, mesmerising beaches, bucolic countryside, lip-smacking food – it is mirrored by a dark side, a far cry from the tourism authority's vision of paradise."
"The library at the University of Mosul was burned down by ISIS after it captured the city in 2014. One man is leading efforts to restock it with books."
"The country has not cut such a pathetic figure on the global stage since Suez."
Southeast Asia Railways
News related to future Southeast railways, as shown on the Future Southeast Asia Map.
"Ho Chi Minh City is planning to build a rail link to Can Tho City in the Mekong Delta at an estimated cost of $3.6 billion."
Travel
"Sketch artist and writer Candace Rose Rardon tells the story of her search for home through the different teas she has discovered while traveling."
""We are going to break the ugly shell and make 'it' breathe again!" stated architects Yvon Chalm and Cambodian urban heritage researcher Olivier Duqué about Kampot Fish Market, an elegant, airy concrete structure achieved in 1934, but erased from the cityscape of this quaint provincial town."
Photography
ON my recent trip to Shenzhen I reported about the bike sharing craze that is sweeping China. This photo in Hangzhou is a great visual of how many bikes are out there now. 
"Nailing the shot might not be the same as reaching the summit, but these photos prove it's a feat worthy of its own accolades."
"Spain-based duo Daniel Rueda and Anna Devis love traveling and searching for interesting geometry in architecture. They photograph their adorable explorations and everything looks like straight out of an aesthetic fairytale."
Instagram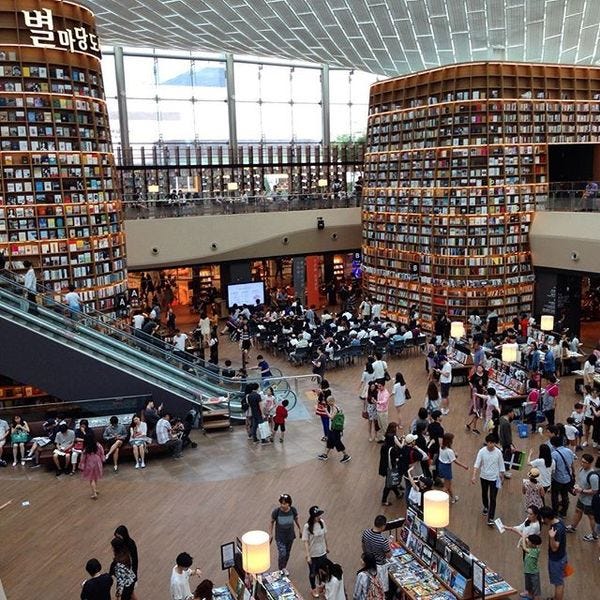 The Starfield Library at the COEX Mall in Gangnam. This is a real library in a shopping mall, filled with people reading paper books, and hardly a Samsung device in sight.
Nomadic Notes Partners
Nomadic Notes is partnered with the following sites. I use and recommend these travel booking sites when planning my travels.
Book Accommodation: Agoda, Hotels Combined
Find Flights: Skyscanner
Car Hire: RentalCars
Travel insurance: World Nomads
Booking via these links will not cost you extra, and they will help keep Nomadic Notes running. Thanks for reading!