Hello from Hue
Update from Central Vietnam, and the best travel reads of the week.
Hello from Hue in Central Vietnam. I arrived here by train from Danang, which takes you via the spectacular Hai Van Pass. I was in Hue in 2019, but it would have been rude not to stop here on the way through to my next destination. I will do some transport and accommodation research while I am here.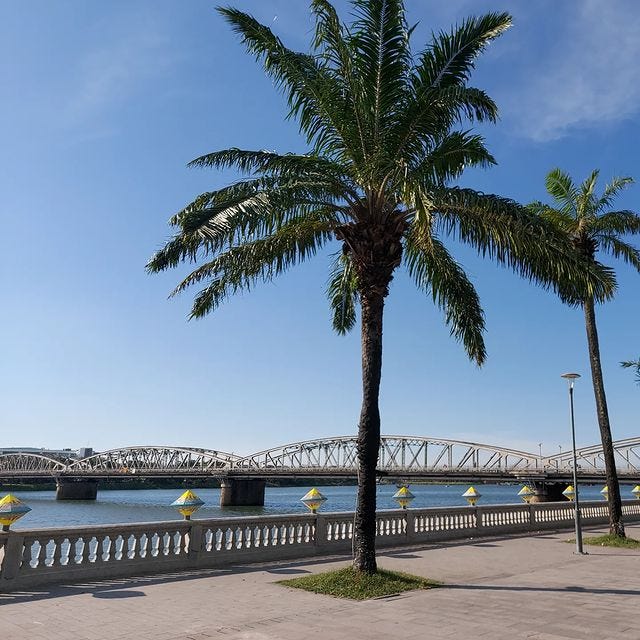 Here are this week's travel reads from around the web.
Assorted travel reads
• My 40-liter backpack travel guide
Packing list blog posts are a well-worn subject in the travel blogosphere, but I find them interesting when it is by someone who isn't a blogger. This is the packing list by Vitalik Buterin of Ethereum fame.
• Sichuan pepper peanuts with a stranger on a train
"Often, all it takes in a train or a bus or a café in a foreign country is a friendly remark, a curious question or a smile, before you're invited into the world of someone you may have only swished past on a nameless train platform."
• Beware the luxury beach resort
• A 'blue hole' to the Northern Lights
• Drought in Iraq reveals 3,400-year-old city
• A herd in exile: Riding horses on Mozambique's Bazaruto Archipelago
• 10 of Europe's most enchanted off-the-radar islands
I'm reasonably well-travelled in Europe, but the fact that I haven't been to any of these tells me that I have to lift my Euro island game.
• Airbnb your days are numbered, and 33 folks online are roasting Airbnb hosts for having the most ridiculous requirements
• Can the age of Middle East train travel return?
• Meet the man battling to fix Europe's trains via an epic 40-day journey
This was featured in the Europe Rail Newsletter (subscribe here).
• Swiss 'zero star hotel' offers sleepless nights to ponder world's crises
And to think that I have been doing this for free…
---
The Nomadic Notes Travel Newsletter is a weekly newsletter of the best travel reads, interesting travel news from around the web, and random ramblings by the editor.
- James Clark