Hanging out in Hua Hin
New Post: Notes on Bangkok – Thailand's cautious reopening, plus the best travel reads from around the web.
HUA HIN - I have less than a week left in Thailand, so I am sneaking in one more beach break while researching new train routes. There is a planned high-speed railway from Bangkok to Hua Hin, which would reduce the trip to under an hour. The train I rode took 4 hours and 15 minutes.
One railway announcement I am excited about this week is a train line from Laos to Vietnam! If this gets built as fast as the China-Laos railway, you could be going from, say, Hue to Vientiane by train in 2025. Meanwhile, I'm still waiting for Laos to fully reopen so I can review the China-Laos railway.
If you are new to the Nomadic Notes Travel Newsletter, I also write about future transport projects in Southeast Asia at the Future Southeast Asia newsletter. I also have a Europe Rail newsletter going out next week.
I was last in Hua Hin about 5 years ago, so I will be writing about it on Nomadic Notes (once I am through my backlog of Thailand travel). I've spent three of the last four months in Thailand, and this week's article is from when I arrived in Bangkok last year.
[James in Hua Hin.]
Latest posts at Nomadic Notes
Notes on Bangkok – Thailand's cautious reopening
Assorted travel reads
• The oral history of March 2020: The month global travel shut down
I was in Bangkok in March 2020, so being back exactly two years later I have been thinking about that crazy month. This detailed report by Skift relives that month through the eyes of the travel industry.
• Bangkok rediscovers the magic of its legendary river
• Africa's global biodiversity hotspot
• Meet 'Super Mario', the man who's lived on cruise ships for two decades
• 'Dark' tourism sites, from Japan's Yasukuni Shrine to the Vietnam war Cu Chi tunnels, why we visit them and why they matter
• Visiting the noodle factory in Hsipaw, Burma
• The peculiar charm of Coober Pedy, Australia's opal capital
• Remembering the first three women to climb Mount Everest
• Argentine family comes home after 22-year drive around the world
• 40 of the weirdest and funniest travel experiences people shared for Fallon's #TravelFail challenge
• When you travel abroad you sort of become an ambassador for your own country. One of the things I love about Australia is the wildlife, but I spend half my time trying to convince people that not every animal is out there to kill you. Then Tourism Australia goes and posts a picture like this 🤣
Did you know that we have tree kangaroos? (And they won't try and eat or poison you.)
@nomadicnotes at Instagram
Follow me at @nomadicnotes for real-time updates.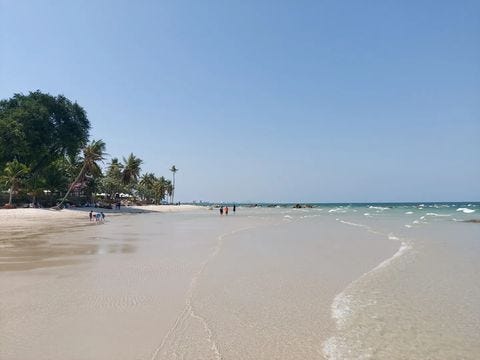 ---
The Nomadic Notes Travel Newsletter is a weekly newsletter of the best travel reads and interesting travel news from around the web, and random ramblings by the editor.
- James Clark