Castlemaine – the gold-rush era city in the goldfields region of Victoria

A weekly newsletter of great travel reads and news by James Clark from Nomadic Notes.
---
Latest posts from Nomadic Notes
Castlemaine is a gold-rush era city near Bendigo in the goldfields region of Victoria.
Travel Reads
"Today marks the anniversary of the Chernobyl nuclear disaster. On April 26, 1986, technicians conducting a test inadvertently caused the fourth reactor to explode, causing the world's worst civil nuclear disaster."
"The young country's amazing marine life has created hope that visitors could uplift its urgently poor economy. But preservation concerns remain."
"Like most things in Kashmir, the Baramulla railway station is surrounded by barbed wire, Indian Army bunkers, and frost-tipped mountains that, at sunset, look bloodstained and haunted."
"Future Da Nang - current and proposed building projects in Vietnam's up-and-coming city by the sea."
"Swaziland's change to eSwatini is the latest in a series of shifts in country names around the world. Here's a look back at some of the most famous."
"The Central Asian nation of Kazakhstan is changing its alphabet from Cyrillic script to the Latin-based style favoured by the West. What are the economics of such a change?"
"Electric buses were seen as a joke at an industry conference in Belgium seven years ago when the Chinese manufacturer BYD Co. showed an early model."
"Over the last 13 years, artist José Naranja has been filling pocket-sized notebooks with his own visual diary. Each of the traveler's notebook pages are packed full of his own writing, illustrations, stamps, and photos, all of which beautifully document the life of this artist."
Nomadic News
"My monthly Extraordinary Lives series is something that I really enjoying doing. First up was JP Livingston, who retired with a net worth over $2,000,000 at the age of 28. Today's interview is with Jeremy, Winnie, and Julian, also known as the family behind Go Curry Cracker."
Instagram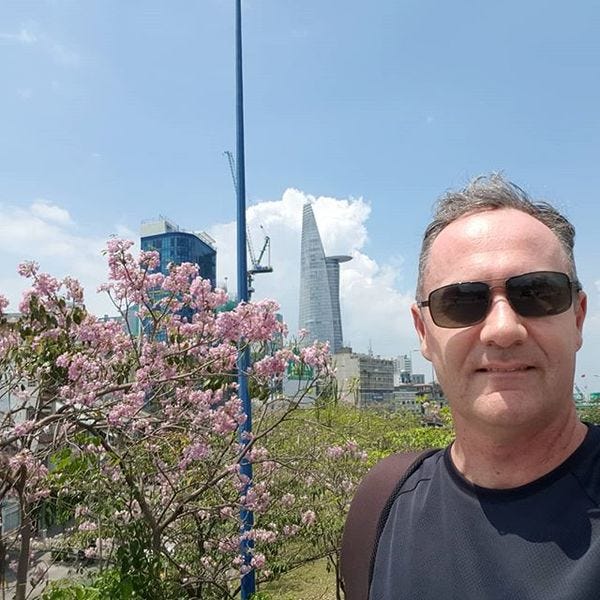 Yours Truly in Saigon.
Nomadic Notes Partners
Nomadic Notes is partnered with the following sites. I use and recommend these travel booking sites when planning my travels.
Book Accommodation: Agoda
Find Flights: Skyscanner
Travel insurance: World Nomads
Booking via these links will not cost you extra, and they will help keep Nomadic Notes running. Thanks for reading!