An unusually good travel day to KL
Koh Rong – An island in transition, travel trivia, and more travel reads.
Where I'm At: Kuala Lumpur, Malaysia.
My Vietnam visa expired today, so without a better plan, I booked an exit ticket to Kuala Lumpur. I was feeling reluctant to leave again, but now that I am in KL it feels good to be back.
Thanks for reading Nomadic Notes Travel Newsletter! Subscribe for free to receive new posts and support my work.
It helped that I had a smooth travel day. I arrived at the budget terminal at KUL (KLIA2), and there was no one in front of me in the immigration queue (I have waited over an hour pre-2020). I went to the toilet, and by the time I got back my bag was there. KLIA2 is famous for delays, and even the AirAsia boss complains about it. I can't believe I was at the same airport. I am reading about the crush of traffic in the US and Europe, and glad not to be dealing with it.
I was last in KL in January 2020, in the before times! In the 2.5 years since I've been away, there have been some noticeable changes. There is a new metro line, and KL is now home to the second tallest building in the world.
[The 678.9-metre-tall Merdeka 118.]
When I am returning to a familiar place I often have a first meal back in mind. I knew a place near the metro station I was getting off at, and I knew I was going to have chicken and rice with a teh tarik.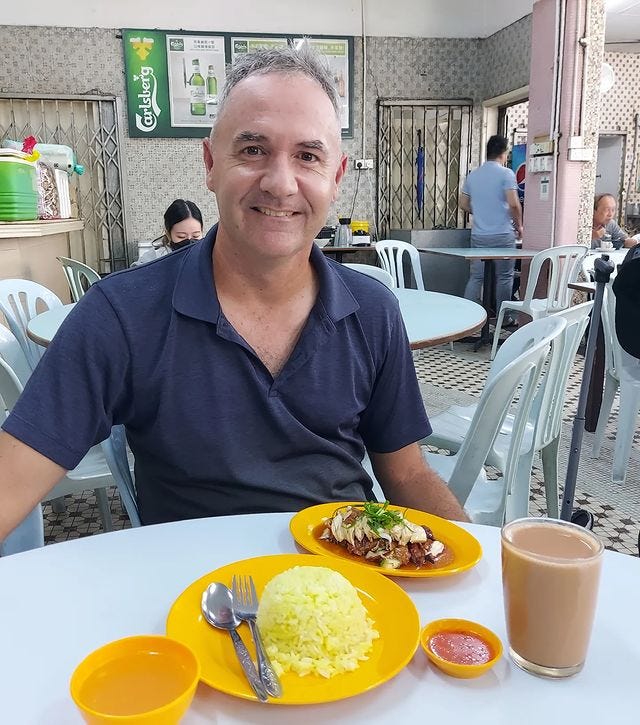 I wrote about the metro systems of Hanoi and HCMC this week, and I will be covering KL's expanding metro system while I am here. I also blogged here at Nomadic Notes, so four articles in 1 week!
Latest posts at Nomadic Notes
Notes on Koh Rong – An island in transition
Assorted travel reads
• I still play Worldle and Airportle on a daily basis, so I was happy to see that my friends at Hecktic Travels have set up Travel Trivia Challenge.
"At the crossroads of south and central Asia lies one of the world's most multilingual places, with songs and poetry to match."
• Europe's island that swaps nationalities
"Pheasant Island, located between France and Spain, bizarrely changes countries twice a year. But why?"
• No tags, please, we're hiking: is Instagram so bad for the great outdoors?
• A weekend in Nepal — the roof of the world
• Siem Reap: Cambodia's city of hope, hip enclaves and heritage
• Northern Explorer train, New Zealand North Island: Spectacular axed train gets a second lease on life
• Queensland's top 7 rail journeys
• One of Europe's smallest nations tries a big idea: free public transit
• Tiny Bansko, Bulgaria, as a proxy for global digital nomads
• 'The Lost World': New book highlights Japan's abandoned rural spaces
---
The Nomadic Notes Travel Newsletter is a weekly newsletter of the best travel reads and interesting travel news from around the web, and random ramblings by the editor.
- James Clark
Thanks for reading Nomadic Notes Travel Newsletter! Subscribe for free to receive new posts and support my work.