Across the Singapore Strait
Mother-daughter duo pilot, rice paddy art, travel by train in 5 hours in Europe, and more travel reads.
Where I'm At: Batam, Indonesia.
Batam is a short ferry ride from Singapore, which is how I arrived back in Indonesia. It's an easy ferry ride as you never lose sight of land on either side, and there are container ships everwhere in the Singapore Strait.
Thanks for reading Nomadic Notes Travel Newsletter! Subscribe for free to receive new posts and support my work.
Most Singaporeans go to the neighbouring Bintan Island for a tropical island getaway from Singapore. I'm here wearing my Future Southeast Asia cap, so I am looking around at future developments on Batam.
This week was my first time back in Singapore since 2019, so it was good to be revisiting some favourite food places and marvelling at old shophouses.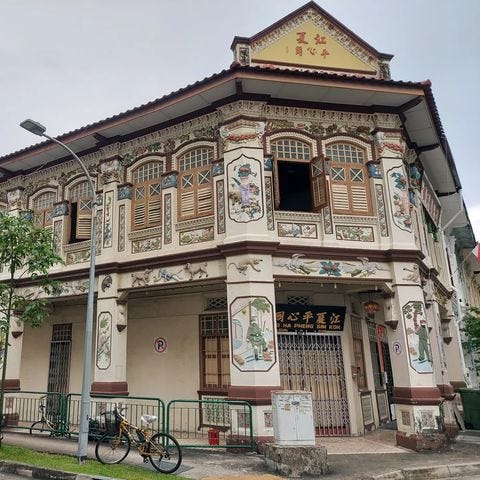 [Follow me at @nomadicnotes for real-time updates.]
Travel reads
• Tourism killed Thailand's most famous bay. Here's how it was brought back to life
• Mother-daughter duo pilot first Southwest flight together: 'It's been a dream come true'
• The dystopia of São Paulo holds the key to Brazil's transformation
• Poste restante is a new travel newsletter by Mark Hodson. The first post is: Backpacking in Asia. A shadow falls, an eye test ... then my world comes apart
• New Croatia bridge redraws map of Adriatic coast
When I got the bus from Split to Dubrovnik I didn't realise you have to pass through a bit of Bosnia and Herzegovina to get there. This bridge removes the double border crossing. Here is my experience of inadvertently visiting Bosnia and Herzegovina.
• In search of the authentic in Kyoto
• Sun, sea and civil war: holidaying in Myanmar
• Manifesta 14 reinvigorates neglected spaces in Kosovo's capital
• On water matters: the fate Baltic ferries tell of global order
• Rice paddy art features two beautiful women from art history
🚆
Train travel
• How far can you go by train in 5h?
"This map shows you how far you can travel from each station in Europe in less than 5 hours."
• The 37 most beautiful train stations in the world
• Now you can book a high-speed Eurostar train on Uber
Overtourism
• "That revolutionary feeling": The Dubrovnik locals reclaiming their city from overtourism
• How Amsterdam's mayor is trying to hold back a tide of tourism
• Prague gets a reset and the emphasis is local
🗺️ Maps
• The length of the coastline of European countries (in km)
🍺
For the drinking traveller
• Britain's most remote mainland pub
• Retired couple on Australia's longest pub crawl say old country hotels are best
Twitter
• Maybe it's the years of travelling that has made me accustomed to carrying a bag everywhere, but it is weird not having a bag of stuff with you…
---
The Nomadic Notes Travel Newsletter is a weekly newsletter of the best travel reads and interesting travel news from around the web, and random ramblings by the editor.
- James Clark
Thanks for reading Nomadic Notes Travel Newsletter! Subscribe for free to receive new posts and support my work.