Travel Newsletter: 26 August 2022
Where I'm At: Danang, Vietnam. New at Nomadic Notes: Notes on Phuket. Travel reads: Cheryl Strayed, the Scottish isle of Eigg, hydrogen-powered trains, and watching bad movies on planes.
Greetings from Danang, again! I wasn't planning on being here this month, but I made a detour to meet some friends. I also got some time in Nha Trang this week and visited a nearby beach at Doc Let. This is what it looks like…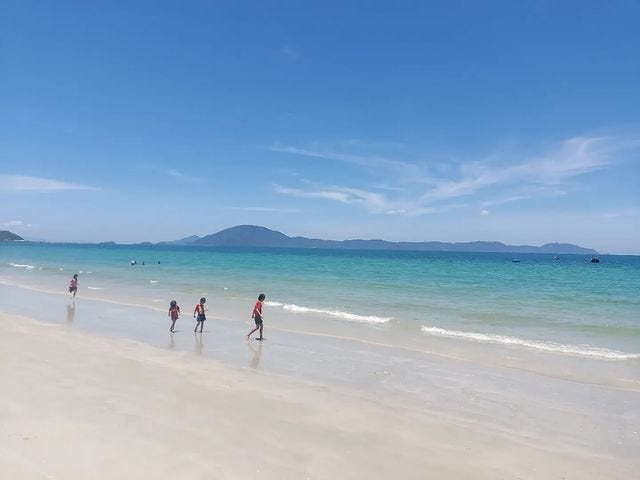 It's the end of the dry season on the South Central Coast, so I have snuck in some good beach days before the rains. My time in Nha Trang was spent looking at construction sites for Future Southeast Asia.
Thanks for reading Nomadic Notes Travel Newsletter! Subscribe for free to receive new posts and support my work.
I don't have a first meal back ritual for Nha Trang, but my first coffee in Nha Trang is always at Sailing Club. This is a great place to crack open your laptop and be a digital nomad cliche (though I work by the beach, not on the beach).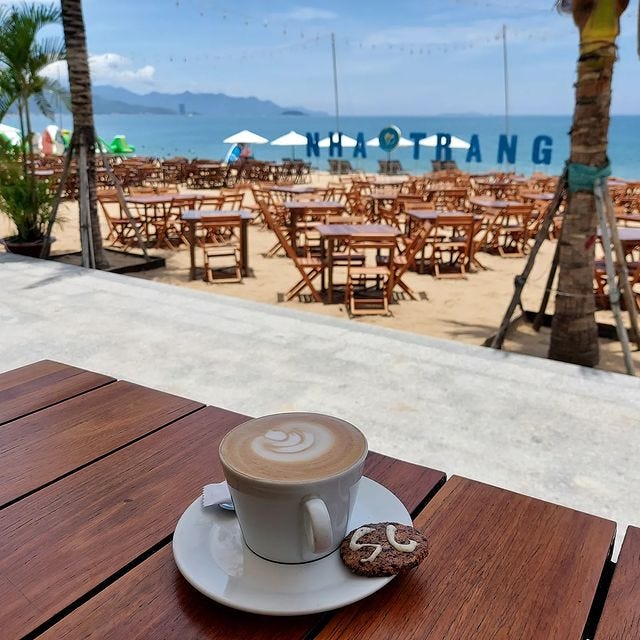 This week I wrote about my time in Phuket way back in January, so who knows, maybe you will read about my Doc Let trip next January.
Latest posts at Nomadic Notes
• Notes on Phuket – There are worse places to be in quarantine (or, it's fine I suppose)
Travel reads
• Cheryl Strayed on the 1995 Pacific Crest Trail thru-hike that changed everything
"Ten years after the publication of 'Wild,' the beloved author shares her thoughts on the haters who thought she was unprepared, the transformative power of doing big things, and where Monster is now."
• Why Britain's greenest island wants 'temporary residents', not tourists
"A community buy-out 25 years ago has helped the Scottish isle of Eigg put sustainability at the heart of island life".
• Saigon, 1992: the most thrilling experience of my life in travel
"The sheer luck of finding myself among the first independent travellers in Vietnam for 17 years, just as this extraordinary city exploded into life to celebrate a new year."
• Wish you weren't here: the photos that show an hour in the life of 'quiet' tourist hotspots
• It was a mystery in the desert for 50 years
"In a remote Nevada valley, the artist Michael Heizer's astonishing megasculpture is finally revealed."
• Bangkok's Charoenkrung Road, the city's oldest, is now its hippest as makeover brings new hotels and bars, galleries and street art
• You're not too good for tourism
"Admit that you're an outsider—and give people an opportunity to practice the virtue of hospitality."
• A Paris tour where you probably know as much as a Parisian
"For nearly a decade, Kévi Donat has been giving tours of Paris that focus on the history of its Black residents—a history that many of its French tour-takers know little of."
🗺️ Maps
• An extremely short history of the concept of boundaries
"On the role maps played in creating the nation state."
🚆
Train travel
• I compile a monthly newsletter for Europe Rail News. I go through the news for infrastructure updates for another project I'm working on, and news of interest for travellers I post on this newsletter. For example, I found this story of the Iron Maiden-branded 'Train 666' in Sweden. I also found this random train in Slovakia…
Here is the rest of this month's Europe Rail News.
• The world's first hydrogen-powered passenger trains are here
• The 37 most beautiful train stations in the world
✈️ Air travel
• The guilt-free pleasure of airplane movies
---
The Nomadic Notes Travel Newsletter is a weekly newsletter of the best travel reads and interesting travel news from around the web, and random ramblings by the editor.
- James Clark
Thanks for reading Nomadic Notes Travel Newsletter! Subscribe for free to receive new posts and support my work.