Travel Newsletter: 21 October 2022
Where I'm At: Danang, Vietnam. Latest Post: Notes on Ko Mook. Travel Reads: Algeria, a village as a hotel, world's busiest flight routes, and more
Here I am in Danang, again. I had to do a visa run this week, so I opted to return via Danang. I know that October is the wettest month of the year here, but I booked anyway. There was a historic flood here last week, and we just missed another storm that moved further north. The last time I was here in October it also rained like crazy. Anyway, the sun is out and workers are on the beach cleaning up the tonnes of debris that was flushed out to sea and washed to shore again.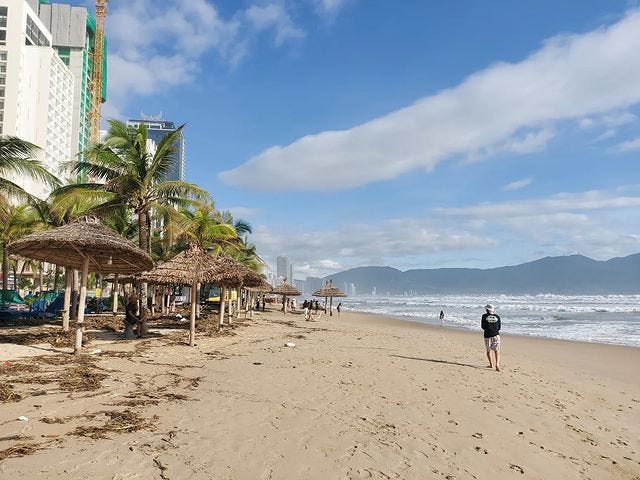 Latest posts at Nomadic Notes
Notes on Ko Mook – A fishing village on an island paradise
Thanks for reading Nomadic Notes Travel Newsletter! Subscribe for free to receive new posts and support my work.
The fishing village is often idealised as a utopian travel destination, but in reality, they are not places you would want to linger. I visit such places if I am on a motorbike, and you are more likely to find a garbage-strewn beach with nowhere to eat.
Then there are the fishing villages that do have the right balance, but become too popular for their own good. Sayulita in Mexico is an example of a once tranquil fishing village that morphed into a tourism hotspot.
Ko Mook in the Andaman Sea might be the closest you'll get to an idyllic fishing village. There are just enough amenities for a tourist (because we are a tourist in their eyes) while being immersed in a working fishing village.
Japan Rail News is live
I launched a new newsletter for train travel in Japan. Subscribe here: Japan Rail News.
Travel reads
• Is Algeria the next great travel destination in Africa?
• My eight deranged days on the Gone Girl cruise
• Nipponia Kosuge: a village of 700, turned into a sprawling hotel
• Goodbye planes, trains and automobiles. Hello, luxury bus?
"Start-up travel companies are hoping more Americans will embrace the concept of sleeper and luxury coaches. Just don't call them buses."
• Backpacking in Tegucigalpa | Honduras
• Retiree's historic quest to ride electric motorcycle from Perth to Sydney
• How would you like to spend the night at Gardens by the Bay – in a shipping container hotel?
• Inside the bicycle's conquest of Amsterdam
Maps
A map of all the places that Anthony Bourdain visited in his travels (via Recomendo).
Travel satire (or is it?)
• Local woman's trip abroad fails to produce Insta traction she had hoped for
🚆
Train travel
• Southeast Asia Railways Report – 2022 edition
I wrote this report on railways under construction in Southeast Asia.
• 25 days, 9 countries, 1,959 miles: seeing Europe by train
"For one British writer left adrift by Brexit, a cross-continental train trip might be the best way to reconnect with her European neighbors."
• From @DownieLive…
✈️ Air travel
• Busiest flight routes in the world
I always enjoy reading this annual list compiled by OAG. I look at this list and wonder what routes can be replaced by rail. For example, Madrid-Barcelona used to be on this list until the high-speed rail was launched. The most obvious route for rail here is Singapore-KL (currently the world's busiest international air route).
• This man built a plane for his family in his garden
This dude making my lockdown projects look bad.
---
The Nomadic Notes Travel Newsletter is a weekly newsletter of the best travel reads and interesting travel news from around the web, and random ramblings by the editor.
- James Clark
Thanks for reading Nomadic Notes Travel Newsletter! Subscribe for free to receive new posts and support my work.