Travel Newsletter: 19 August 2022
Guide to wartime Kyiv, East Yorkshire Middle-earth, challenge vs comfort travel, picking up rubbish on the beach, my favourite ferry ride, and more travel reads.
Where I'm At: Ho Chi Minh City, Vietnam.
Hello from Ho Chi Minh City. It's been a typical week here of getting things done and catching up with friends. I con still only get monthly visas here though, so I'm not settling in for too long.
Thanks for reading Nomadic Notes Travel Newsletter! Subscribe for free to receive new posts and support my work.
Visas have been in the news here this month, as the pre-covid visa arrangements haven't been restored. Tourism bodies are calling for easing visa requirements to boost visitor numbers.
Meanwhile, travellers from Vietnam are having to deal with not being allowed into some countries because the new passports don't show their birth country. This is now being fixed, but not much use if you already got a new passport.
I didn't get round to blogging this week, but there are plenty of other travel reads to be had. Here are this week's selected travel reads from around the web.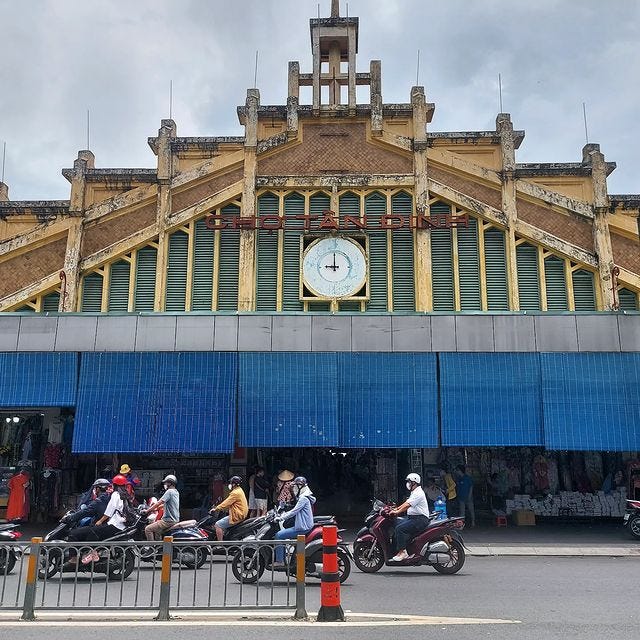 Travel reads
• Guide to wartime Kyiv: City on the frontlines of European history
• Dreaming shires: how East Yorkshire shaped Tolkien's Middle-earth fantasy
• Meet Nomadic Notes – the man who's lived out of a suitcase for 20 years
I did a brief podcast chat with The Bureau, a travel and lifestyle news site in Vietnam.
• On Malaysia's toughest trek, through Malayan tiger's last refuge, the rainforest of Taman Negara national park, a sweaty climb and muddy descent
• Why I pick up trash at the beach
Every time I go to the beach I end up with a handful of rubbish. I always do this but I never come prepared with a plastic bag to put rubbish in. So this is more of a note to myself: *** JAMES - bring a plastic bag next time you go to the beach! ***
"From the dramatic weeping willows along the Seine to the London plane trees that line the Champs-Élysées, trees play a supporting role in the city's inimitable elegance and grandeur."
• The world's most spectacular ferry crossings
The overnight ferry from Stockholm to Helsinki was one of my most memorable boat trips. It was all the more memorable because it was in June and there was daylight while we cruised through the Stockholm Archipelago.
• How Phnom Penh can recapture its mid-century glory
• The floating homes of Lake Titicaca
• Will travelers bifurcate into "challenge" and "comfort"?
Tyler Cowen is an economist who occasionally posts travel dispatches while he is on the road. This is his latest article on Bloomberg: The future of travel is less exotic:
"Fewer Western tourists seem to want to have challenging experiences — and that may be a boon for those of us who do." (Also here if you have run out of Bloomberg reads).
• Kilimanjaro gets high-speed internet so climbers can tweet or Instagram ascent
• Revenge travel may be a big problem for places like Thailand's famous Maya Bay
• Frequent fliers are sharing underrated destinations to consider in place of popular vacation spots
🚆
Train travel
I published this article to track the progress of the railway project that plans to travel the length of Sumatra.
• How many train drivers does it take to drive a train across Australia?
✈️ Air travel
• American Airlines places order for 20 supersonic jets from Boom Supersonic
• VIDEO: Wizz Air plane makes 'lowest ever landing' at Greek island airport
💻 Digital nomad
• We set up Italy's first digital nomad community in a rural village. This is what we learned.
• Are you a 'digital nomad'? European locales want remote workers
---
The Nomadic Notes Travel Newsletter is a weekly newsletter of the best travel reads and interesting travel news from around the web, and random ramblings by the editor.
- James Clark
Thanks for reading Nomadic Notes Travel Newsletter! Subscribe for free to receive new posts and support my work.