Travel Newsletter: 11 November 2022
Where I'm At: Chiang Mai, Thailand. Nomadic Notes on social media, and the best travel reads of the week.
Hello from Chiang Mai! This is my first time back since the before times, and it feels like returning to a second home. I've gone back to one of my favourite cafes, and I've already run into a friend there, and have meetings lined up for the next week.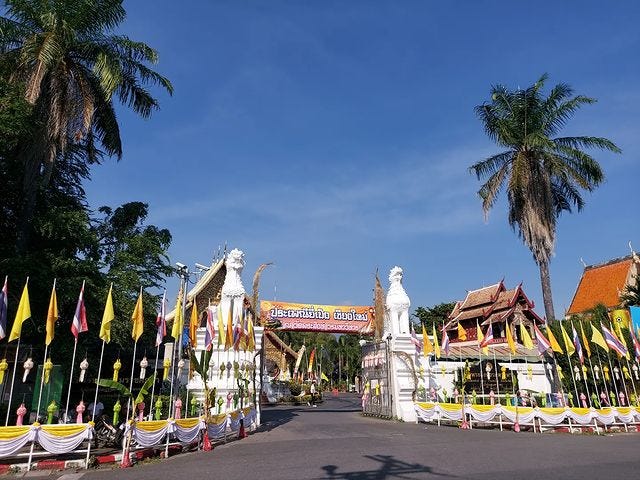 Nomadic Notes on social media
It's been a travel week, so I didn't get around to posting a new article this week. I probably could have got a new article out if I looked away from the dumpster fire that is Twitter.
Thanks for reading Nomadic Notes Travel Newsletter! Subscribe for free to receive new posts and support my work.
If you are a Twitter user (or online a lot) then you no doubt know that Elon Musk bought Twitter and, well, it's not going well. After spending 44 billion dollars, he is now saying it could go bankrupt.
I have better things to do than shop around for new social media sites, but such is the chaos there at the moment that I have had to look for alternatives. I rely on Twitter for news and article discovery, so it forms an important role for Nomadic Notes and Future Southeast Asia.
There is no obvious Twitter replacement, though one site that has emerged as the most talked-about option is Mastodon. If you have already joined, I'm at https://mastodon.social/@nomadicnotes
Mastodon is a bit complicated because you must pick a server rather than join via the main site. That is also the selling point because it is not centralised. If you want to check it out, here is a server to join: https://mas.to/.
I have also been revisiting LinkedIn over the last few months. I've had an account for ages but never used it. I had only known LinkedIn as a place where people spam you for work or dodgy business offers. I have since turned off messaging and I have found the experience to be much better. I was surprised to see some faces in there that I have not seen on Facebook for years. I'm at linkedin.com/in/jamestclark/ and linkedin.com/company/nomadic-notes/.
I'm going to look around at other sites as it has been years since I have looked beyond my go-to sites of Instagram, Facebook, and Twitter. I will do a longer post about social media and travel.
Travel reads
• Tempelhof: The single site that embodies Berlin
• Thai creatives breathe new life into Bangkok's oldest neighborhoods
• Wander through a 2,200-foot-long tunnel beneath Niagara Falls
• Egypt's new billion-dollar museum is fit for a pharaoh
"The Grand Egyptian Museum is a monumental showcase for all 5,000 of King Tut's treasures—and a symbol of a nation that has reclaimed its past."
• White-sand beach, golf, fabulous food – Hua Hin in Thailand has a lot to offer visitors, if you're happy with pines rather than palms
• 10 of the best railway journeys in Italy
• Arizona's scenic Wine Country has train rides & Wild West vibes
• 'Deutschlandticket': Germany launches €49 per month ticket for trains, buses and trams
• Long way round: how does Russian airspace closure affect Asian flights?
• Airbnb to display total prices up front and end checkout task drudgery
---
The Nomadic Notes Travel Newsletter is a weekly newsletter of the best travel reads, interesting travel news from around the web, and random ramblings by the editor.
- James Clark
Thanks for reading Nomadic Notes Travel Newsletter! Subscribe for free to receive new posts and support my work.