Travel Newsletter: 10 June 2022
Nomadding my way through 2022, and the best travel reads of the week.
Greetings from Saigon. I'm back in my unofficial home away from home, though at the moment I can still only get a 1-month visa. This month I will be travelling within Vietnam, so I haven't got a monthly rental. In fact I will be in nomad mode for most of the year as I am going all in on expanding Future Southeast Asia. I now have a rough itinerary for the rest of 2022, which is not something I have done for years.
Travel feels like it is getting back to normal here. Since I was last here, the need for covid testing and online health declarations have been removed. And to top that off, I arrived at the airport and I was the first in the immigration queue, and I got a taxi straight away. It is a nice travel sweet spot now where restrictions have eased and airports aren't too busy.
More flight options are returning as well. With China probably off limits for the rest of the year, airlines in Vietnam are diversifying. I am seriously tempted by the new Ho Chi Minh City to Mumbai route. I was last in Mumbai in 2007, so I would like to go back and then check out some other places in India.
A bit of travel trivia: this city pair is notable for being cities that have had name changes. Ho Chi Minh City and Mumbai still keep their original IATA codes of SGN and BOM from when they were Saigon and Bombay.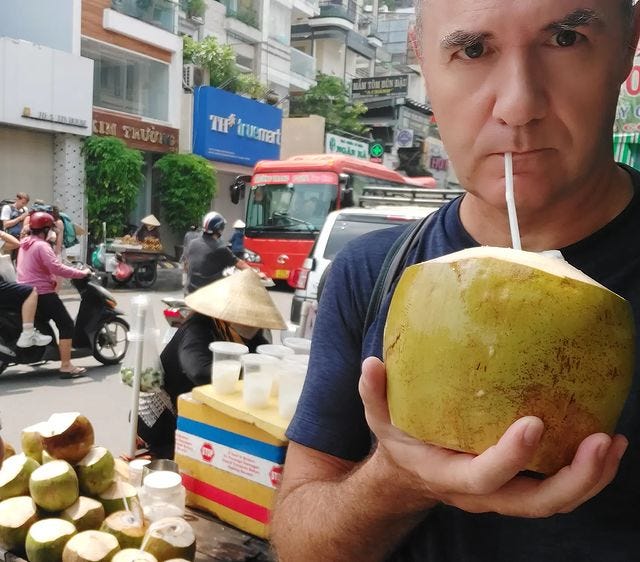 ~ HCMC, Vietnam.
Assorted travel reads
• For adventurous families, a bespoke motorbike tour in Vietnam
"Motorbiking in Vietnam's highlands isn't for everyone. But neither are extreme thrills."
• And now, the Rotel: a rolling hotel for the brave tourist
• Photos show how Singapore's iconic 'green hotel' has been overrun by plants in the past 6 years
• Dragon's Teeth - Tales from North Kosovo
• Travelers ask, cash, what's that?
Cash is still king in Southeast Asia, so when I went back to Australia one of the main things I noticed was how card payments are used for everything now.
• How to buy dollars in Beirut
Reminds me of buying dollars in Buenos Aires.
• The new LaGuardia is haunted by the mistakes of its past
"An $8 billion overhaul has transformed the long-reviled New York airport. But LaGuardia's troubled history can't be fully overcome."
• My news feed has been awash with stories of a 5-year digital nomad visa for Indonesia, which is marketed as a visa for Bali (which is like saying a visa for California). Anyway, it's not a thing yet, but you will read about it here if it becomes so.
Bali has been a famous digital nomad hotspot for a while now (according to my research into digital nomad history, Dan from Tropical MBA first made the case for living in Bali as a digital nomad in 2011). Now Thailand's Koh Pha-ngan is becoming a hotspot for crypto digital nomads.
• Confessions of a 1980s flight attendant, and from "The Onion of Ireland": 'We bash your elbows on purpose': flight attendants open up.
• I love photographing dogs, here are 28 of my pictures I took of stray dogs I encountered in Cape Verde
• I never read airline reviews as the reviews are overwhelmed by this guy…
---
The Nomadic Notes Travel Newsletter is a weekly newsletter of the best travel reads and interesting travel news from around the web, and random ramblings by the editor.
- James Clark